The Best Way to Make Money Online in 2022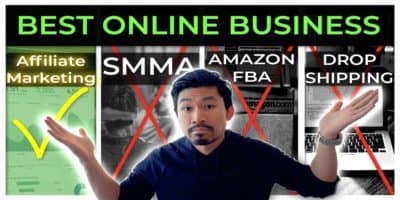 What is the Best Way to Make Money Online?
The best way to make money online hands down is Affiliate Marketing. In this article, I'll break down why Affiliate Marketing comes out on top, and how it compares to other online business models.
You can also check out my podcast episode on the best ways to make passive income online!
What Makes Affiliate Marketing the Best Way to Make Money Online
In my 8 plus years of focusing on Passive Income, I've met Dropshippers, Social Media Marketers, real estate investors, stock traders, and Amazon FBA experts…
And they are always jealous of the high-profit margins, not having to deal with shipping physical products, not having to deal with customer service, and the passive income nature of affiliate marketing.
What I love about Affiliate Marketing is the fact that I can promote multiple brand-name products that I truly believe in. You just need to create useful content that helps people see the value in whatever product you're an affiliate for.
Chances are you're already doing affiliate marketing by recommending products to friends and family, but you're just not getting paid for it yet!
The great thing with Affiliate marketing is that you don't need to spend thousands of dollars on start-up costs. All you need is a website, which thanks to new software can be built in under 2 minutes.
I started on Amazon Associates reviewing headphones, helping people figure out which brand of headphones were right for them.
How Does Affiliate Marketing Stack Up Against Other Online Business Models?
Let's take a look at the pros and cons of the top online business models, so you can see for yourself how Affiliate Marketing stacks up!
Amazon FBA
Simply put with Amazon FBA, or "Fulfillment by Amazon", you're selling products that you purchase in bulk from a wholesaler (like Alibaba) on Amazon's marketplace. Usually you "private label" and put your own brand on these white-label products.
Pros
Amazon's Marketplace: Your product is shown on one of the biggest marketplaces in the world – Amazon.com.

Logistics Solved: Amazon's fulfillment centers handle the shipping and distribution of your products.
Cons
High Start-Up Costs: Usually you have to spend $3,000 – $5,000 initially to buy a product in bulk to start selling, plus invest in paid ads.

Customer Service Headaches: You have to deal with refunds and bad reviews.

Low Quality/Non-Name Brand Products: The products you are purchasing from Alibaba are generally low quality and generic.

Competition from Amazon Basics: Amazon can start selling a product similar to yours, and destroy your business.
Dropshipping
Similar to Amazon FBA, you are selling a physical product (usually on a platform like Shopify) that you purchase from a third-party wholesaler like AliExpress. With dropshipping, you don't purchase products until someone purchases them, and the wholesaler ships directly to your customer.
Pros
Lower Startup Cost: You only have to pay after a customer orders a product from your Shopify store (starting at $29/month)
Cons
Competition: ANYONE can sell your same exact dropshipping product, including the supplies themselves.

Customer Service Headaches: You have to deal with refunds and bad reviews.

Long Shipping Times: Dropshipping Products sometimes take 2-3 weeks to arrive at your customer's address.

Low Quality/Non-Name Brand Products: These products are usually very cheap quality and generic. No personal branding like Amazon FBA.

Competition from Amazon: Unlike Amazon FBA you do not get to take advantage of Amazon's logistics and your shipping times are significantly longer.
Social Media Marketing Agency (SMMA)
You go out and find clients to pay you a monthly fee to manage their social media marketing, in order to get more customers and business.
Pros
You can scale quickly and build a decent income if you can close clients

You can start with just a computer and software (but you'll need the skills and experience to get results)
Cons
Having to Pitch and Close Clients: If you're not good at selling face-to-face, then this is not the business for you.

Client Turnover + Headaches: Clients come and go each month. You are on call 24/7 to deal with any problems or issues your clients may have.

Large Time Commitment: This is NOT passive income. If you stop actively working, you stop making money.

High Amount of Competition: With so many marketing agencies competing for business, your clients could easily switch to a new agency for cheaper.

Difficult to Scale: The only way to gain more clients is to hire more staff to help manage those new clients.

You're Only as Good as Your Clients: If your clients don't do their part, then you can't make miracles happen.
Stock Trading
Pros
No customer service headaches

No Paid Advertising Costs

Scalable: You can simply invest more money, no need to hire more people.
Cons
Requires Startup Capital Investment: Your gains are proportionate to the amount of money you put in.

Huge time commitment: When the market is open you have to be ready to start trading.

Reliance on outside factors: Your money is riding on the decisions of other people and companies, not your own decisions.

You aren't creating value in the marketplace: You are not providing any service for anyone, you are just gambling on other companies.
Real Estate Investing
Pros
Investing in a physical asset: You own a physical piece of property like a condo or home, that generally appreciates in value over time.
Cons
High Start-Up Costs: It can easily take ~$20,000 – $30,000 to make a downpayment on a home, even in a cheaper area.

Your money is tied up: If you run low on money, you can't simply pull your money out, you have to find a buyer for your property which can take a long time.

Tenant Headaches: Renting your property means you have to deal with tenants, maintenance, and liability issues.

You are at the mercy of the housing market: If the market goes down you are stuck with a property worth less than what you paid for it.
Affiliate Marketing
Affiliate marketing is just referrals, simply creating useful content, and every time someone uses your link to purchase a product you get a commission!
Pros
Low Start-Up Costs: For under $100 you can get started.

NO Customer Service Headaches

Name Brand Products: You get to promote products you already use and love.

True Passive Income: One piece of content can generate income for years

Easily Scalable: You can reinvest into paid advertising or SEO to grow your website's traffic, leading to more sales. Because you aren't handling customer service or shipping, you can scale without adding staff.
Cons
Takes Patience: It can take 1-2 years (or more) to build up a successful Affiliate Marketing Business.

Lack of Control: Because you don't own the company or product, they get to call the shots. One way to counteract this is to build your OWN brand and collect your own audience.
What It Takes to Make Money Online
If you want to build a long-lasting, successful business you're going to need to build a strong foundation. Because if you go after whatever is the easiest, you might make one sale, but you won't make sales consistently.
Affiliate payouts like the ones below didn't happen overnight!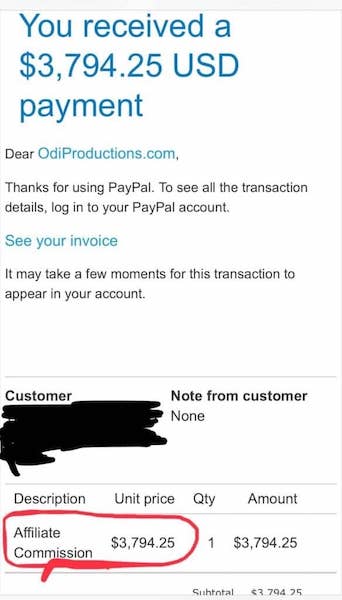 I took the time to work on creating valuable content. Instead of taking whatever products paid the most, I went and found products I believed in.
Once I had spent years perfecting my system for successfully selling a product I was able to start making money.
I wanted to take the little money I was making and buy a new guitar, upgrade my laptop, or simply go out to eat.
BUT I knew if I wanted to grow I had to reinvest.
I decided to put the money back into the business. I started experimenting with running paid ad campaigns. That's where I saw the true power of passive income.
I didn't have to create content every day, in fact, I could generate sales with content that I had created years before.
What Comes Next?
I have a completely free step-by-step guide for how to get started in Affiliate Marketing. Click HERE to access the complete guide!