Amazon Affiliate Marketing Ultimate Beginners Guide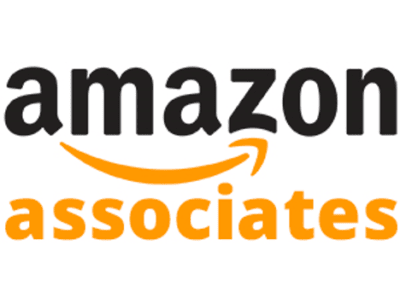 If you're getting started in Affiliate Marketing, I always recommend people start with Amazon Associates.
In this guide, I'll show you how Amazon Affiliate Marketing works, how to get started, and what my results have been.
But how much can you REALLY make from Amazon Associates?
The answer: Thousands of dollars a month!
I was able to scale from ZERO to over $3,000 per month with Amazon Associates in just a few years (pictured below)…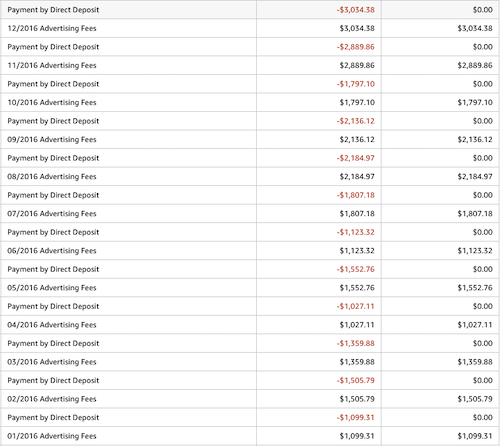 Plus, what's even better is that all the money you make from it is profit since there's no overhead, no expenses, no shipping, etc.
How Does Amazon Associates Work?
Simple. Amazon gives you a commission anytime people click your affiliate link(s) and purchase a product within 24 hours.
You do not need to get a new link every 24 hours as it automatically refreshes.
You can get an affiliate link for any product sold on Amazon!
Even if someone doesn't buy the specific item you linked, you will still earn a commission on every product purchased in 24 hours.
Below is the list of commission rates for products on Amazon by category.
How Do I Get Started with Amazon Affiliate Marketing?
Click HERE for our free Step-by-Step How to Start Guide or keep reading below…
Step 1. Make sure you have a website before applying (if you don't, click the link above to learn how).
Step 2. Visit Amazon Associates' homepage and apply using your website URL.
Step 3. After approval, use the search tool to find affiliate products to promote and get your affiliate links.
Step 4. Post your affiliate links on the appropriate platforms: Your website, YouTube Channel, email marketing list, etc.
Step 5. DO NOT spam your affiliate links on social media EVER!
Is Amazon Associates Available Internationally or Outside of the U.S.?
Yes! Amazon has affiliate programs for the following countries: The UK, Germany, France, Italy, Canada, Japan, Spain, India, Brazil, Mexico, China, and Australia.
You can receive your affiliate payouts via direct deposit, PayPal, check, or Amazon gift card.
Want to promote products to people in multiple countries? You can use Amazon One Link to earn commissions internationally outside of your country.
How Soon Can I Make Money with Amazon Affiliate Marketing?
Here's a graph of my Amazon Earnings starting with my very first sale back in November 2014…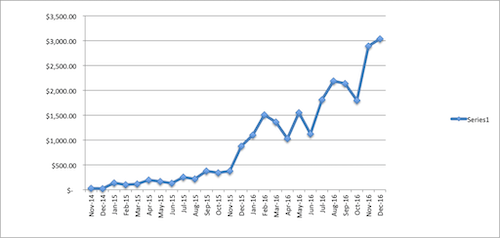 I've been doing affiliate marketing for 8 years, even once I got my first Amazon Associates sale in November of 2014, it was another year before I started making almost $500 a month…
But something that I love about affiliate marketing is that it follows an exponential growth curve.
Once I put in the work of building my business up to $500 a month, it really started to take off.
When I started, I had zero social media following. I was shy and didn't want to show my face on camera…
I just sat down at my laptop every day and tried to make useful content like reviews and comparison videos for potential customers in my niche and market.
My first pieces of content weren't perfect and didn't get a lot of views…
But every video and piece of content I wrote helped me learn how to make better quality content and also experiment with SEO to rank higher.
When I finally made my first sale it felt like a validation of all the work I had put in even though it was only $32.06.
Then I reinvested that money into ads, and started to grow…
What other Affiliate Programs and Networks do you recommend for beginners?
Amazon Associates is the perfect Affiliate Network to start with, and can produce real results!
But once you master the basics of Affiliate Marketing a whole world of opportunity opens up…
You can join Commission Junction and find brand-name products…
You can find direct Affiliate Programs from companies that offer amazing high ticket commissions…
After years of working on my affiliate websites and business, I now receive affiliate commissions like the email below!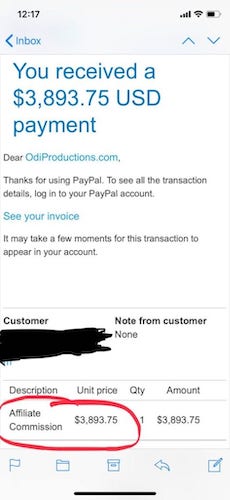 But there's no way to skip out on the hard work at the beginning…
If you want to make significant money in Affiliate Marketing that's what it's going to take…
There's no secret "auto-pilot" software for affiliate marketing.
Once you learn how to do SEO, create good websites, and run successful ad campaigns like an actual business, only then can you can make consistent passive income.
What Comes Next?
If you want to learn more about exactly how Affiliate Marketing works, click HERE for a completely free, no-email required step-by-step guide…